EC2 Storage Overview
Amazon EC2 provides flexible, cost effective and easy-to-use EC2 storage options with a unique combination of performance and durability

Amazon Elastic Block Store (EBS)
Amazon EC2 Instance Store
Amazon Simple Storage Service (S3)

While EBS and Instance store are Block level, Amazon S3 is an Object level storage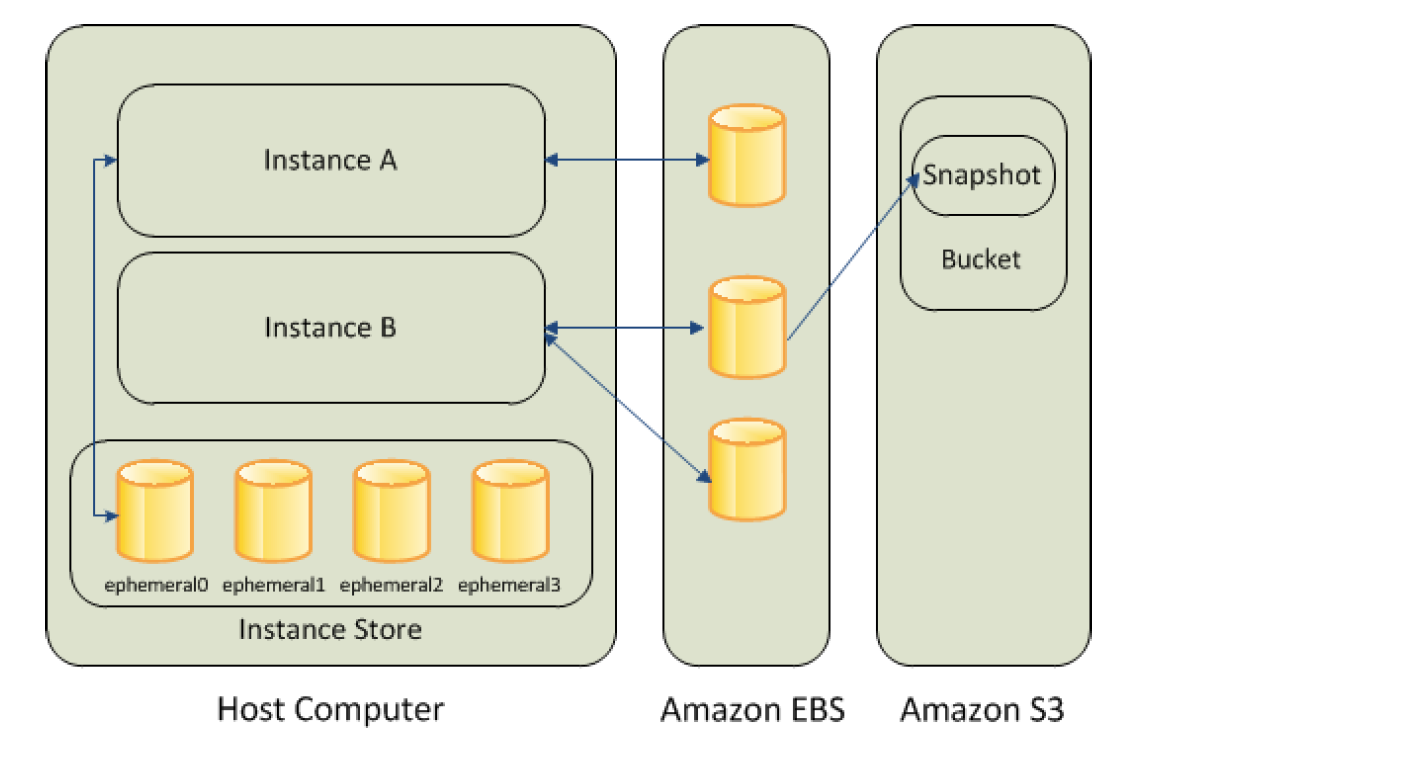 Storage Types
Amazon EBS
More details @ AWS EC2 EBS Storage
Amazon Instance Store
More details @ AWS EC2 Instance Store Storage
Amazon EBS vs Instance Store
More detailed @ Comparison of EBS vs Instance Store
Amazon S3
More details @ AWS S3
Block Device Mapping
A block device is a storage device that moves data in sequences of bytes or bits (blocks) and supports random access and generally use buffered I/O for e.g. hard disks, CD-ROM etc
Block devices can be physically attached to a computer (like an instance store volume) or can be accessed remotely as if it was attached (like an EBS volume)
Block device mapping defines the block devices to be attached to an instance, which can either be done while creation of an AMI or when an instance is launched
Block device must be mounted on the instance, after being attached to the instance, to be able to be accessed
When a block device is detached from an instance, it is unmounted by the operating system and you can no longer access the storage device.
Additional Instance store volumes can be attached only when the instance is launched while EBS volumes can be attached to an running instance.

View the block device mapping for an instance, only the EBS volumes can be seen, not the instance store volumes.Instance metadata can be used to query the complete block device mapping.
Public Data Sets
Amazon Web Services provides a repository of public data sets that can be seamlessly integrated into AWS cloud-based applications.
Amazon stores the data sets at no charge to the community and, as with all AWS services, you pay only for the compute and storage you use for your own applications.
Sample Exam Questions
Questions are collected from Internet and the answers are marked as per my knowledge and understanding (which might differ with yours).

AWS services are updated everyday and both the answers and questions might be outdated soon, so research accordingly.

AWS exam questions are not updated to keep up the pace with AWS updates, so even if the underlying feature has changed the question might not be updated

Open to further feedback, discussion and correction.
When you view the block device mapping for your instance, you can see only the EBS volumes, not the instance store volumes.

Depends on the instance type
FALSE
Depends on whether you use API call
TRUE
Amazon EC2 provides a repository of public data sets that can be seamlessly integrated into AWS cloud-based applications. What is the monthly charge for using the public data sets?

A 1 time charge of 10$ for all the datasets.
1$ per dataset per month
10$ per month for all the datasets
There is no charge for using the public data sets
How many types of block devices does Amazon EC2 support?

2
4
3
1
References