GCP Storage Options
GCP provides various storage options and the selection can be based on
Structured vs Unstructured
Relational (SQL) vs Non-Relational (NoSQL)
Transactional (OLTP) vs Analytical (OLAP)
Fully Managed vs Requires Provisioning
Global vs Regional
Horizontal vs Vertical scaling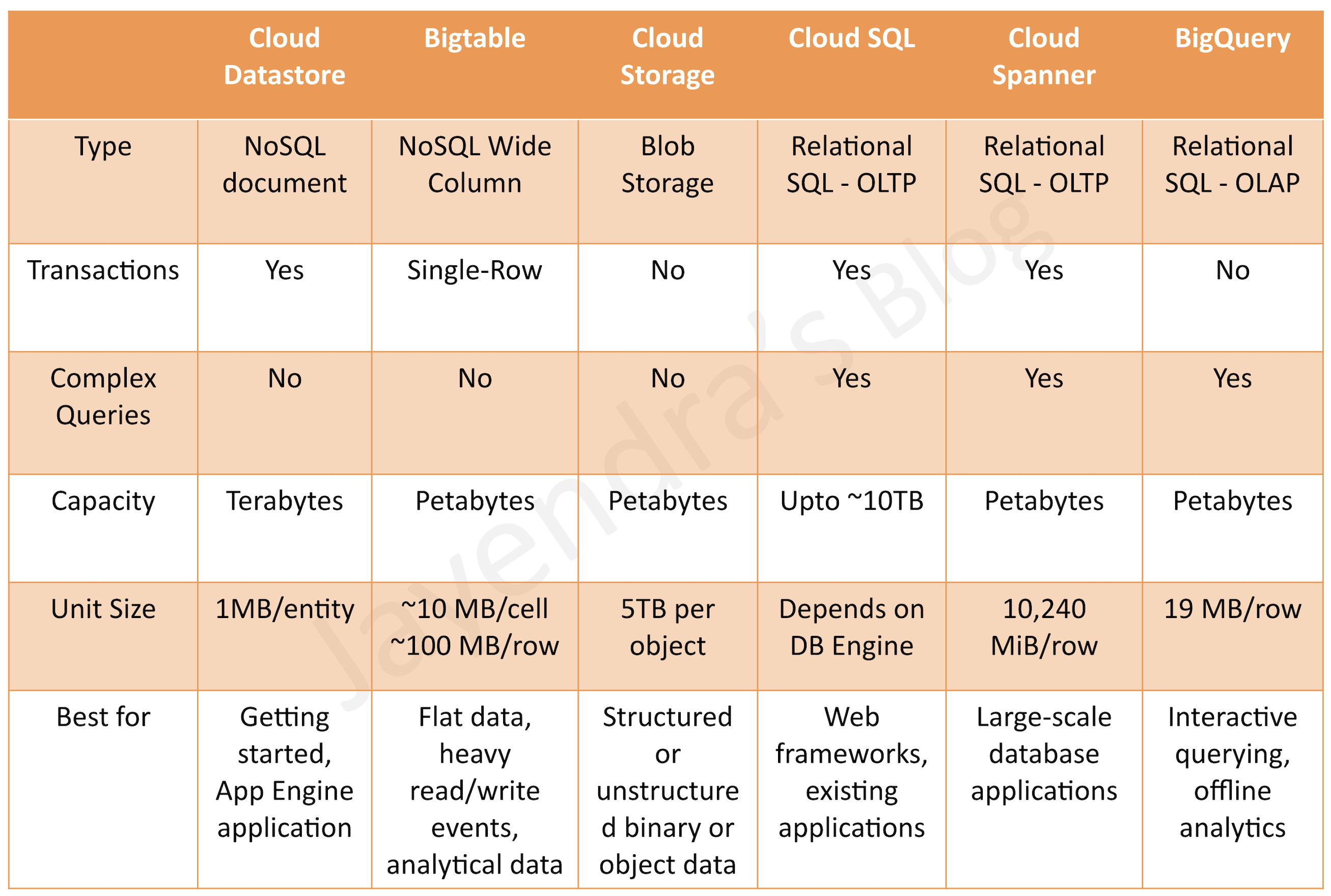 Cloud Firestore is a fully managed, highly scalable, serverless, non-relational NoSQL document database
fully managed with no-ops and no planned downtime and no need to provision database instances (vs Bigtable)
uses a distributed architecture to automatically manage scaling.
queries scale with the size of the result set, not the size of the data set
supports ACID Atomic transactions – all or nothing (vs Bigtable)
provides High availability of reads and writes – runs in Google data centers, which use redundancy to minimize impact from points of failure.
provides massive scalability with high performance – uses a distributed architecture to automatically manage scaling.
scales from zero to terabytes with flexible storage and querying of data
provides SQL-like query language
supports strong consistency
supports data encryption at rest and in transit
provides terabytes of capacity with a maximum unit size of 1 MB per entity (vs Bigtable)
Consider using Cloud Firestore if you need to store semi-structured objects, or if require support for transactions and SQL-like queries.
Cloud Storage provides durable and highly available object storage.
fully managed, simple administration, cost-effective, and scalable service that does not require capacity management
supports unstructured data storage like binary or raw objects
provides high performance, internet-scale
supports data encryption at rest and in transit
Consider using Cloud Storage, if you need to store immutable blobs larger than 10 MB, such as large images or movies. This storage service provides petabytes of capacity with a maximum unit size of 5 TB per object.
Usage Patterns

Images, pictures, and videos
Objects and blobs
Unstructured data
Long term storage for archival or compliance

Anti Patterns
Common Use cases

Storing and streaming multimedia
Storage for custom data analytics pipelines
Archive, backup, and disaster recovery
provides fully managed, relational SQL databases
offers MySQL, PostgreSQL, MSSQL databases as a service
manages OS & Software installation, patches and updates, backups and configuring replications, failover however needs to select and provision machines (vs Cloud Spanner)
single region only – although it now supports cross-region read replicas (vs Cloud Spanner)
Scaling

provides vertical scalability (Max. storage of 10TB)
storage can be increased without incurring any downtime
provides an option to increase the storage automatically
storage CANNOT be decreased
supports Horizontal scaling for read-only using read replicas (vs Cloud Spanner)
performance is linked to the disk size

Security

data is encrypted when stored in database tables, temporary files, and backups.
external connections can be encrypted by using SSL, or by using the Cloud SQL Proxy.

High Availability

fault-tolerance across zones can be achieved by configuring the instance for high availability by adding a failover replica
failover is automatic
can be created from primary instance only
replication from the primary instance to failover replica is semi-synchronous.
failover replica must be in the same region as the primary instance, but in a different zone
only one instance for every primary instance allowed
supports managed backups and backups are created on primary instance only
supports automatic replication

Backups

Automated backups can be configured and are stored for 7 days
Manual backups (snapshots) can be created and are not deleted automatically

Point-in-time recovery

requires binary logging enabled.

every update to the database is written to an independent log, which involves a small reduction in write performance.
performance of the read operations is unaffected by binary logging, regardless of the size of the binary log files.

Usage Patterns

direct lift and shift for MySQL, PostgreSQL, MSSQL database only
relational database service with strong consistency
OLTP workloads

Anti Patterns

need data storage more than 10TB, use Cloud Spanner
need global availability with low latency, use Cloud Spanner
not a direct replacement for Oracle use installation on GCE

Common Use cases

Websites, blogs, and content management systems (CMS)
Business intelligence (BI) applications
ERP, CRM, and eCommerce applications
Geospatial applications

Consider using Cloud SQL for full relational SQL support for OTLP and lift and shift of MySQL, PostgreSQL databases
Cloud Spanner provides fully managed, relational SQL databases with joins and secondary indexes
provides cross-region, global, horizontal scalability, and availability
supports strong consistency, including strongly consistent secondary indexes
provides high availability through synchronous and built-in data replication.
provides strong global consistency
supports database sizes exceeding ~2 TB (vs Cloud SQL)
does not provide direct lift and shift for relational databases (vs Cloud SQL)
expensive as compared to Cloud SQL
Consider using Cloud Spanner for full relational SQL support, with horizontal scalability spanning petabytes for OTLP
provides fully managed, no-ops,  OLAP, enterprise data warehouse (EDW) with SQL and fast ad-hoc queries.
provides high capacity, data warehousing analytics solution
ideal for big data exploration and processing
not ideal for operational or transactional databases
provides SQL interface
A scalable, fully managed
Usage Patterns

OLAP workloads up to petabyte-scale
Big data exploration and processing
Reporting via business intelligence (BI) tools

Anti Patterns

Not an ideal storage option for transactional data or OLTP – Use Cloud SQL or Cloud Spanner instead
Low-latency read/write access – Use Bigtable instead

Common Use cases

Analytical reporting on large data
Data science and advanced analyses
Big data processing using SQL
Memorystore
provides scalable, secure, and highly available in-memory service for Redis and Memcached.
fully managed as provisioning, replication, failover, and patching are all automated, which drastically reduces the time spent doing DevOps.
provides 100% compatibility with open source Redis and Memcached
is protected from the internet using VPC networks and private IP and comes with IAM integration
Usage Patterns

Lift and shift migration of applications
Low latency data caching and retrieval

Anti Patterns

Relational or NoSQL database
Analytics solution

Common Use cases
GCP Storage Options Decision Tree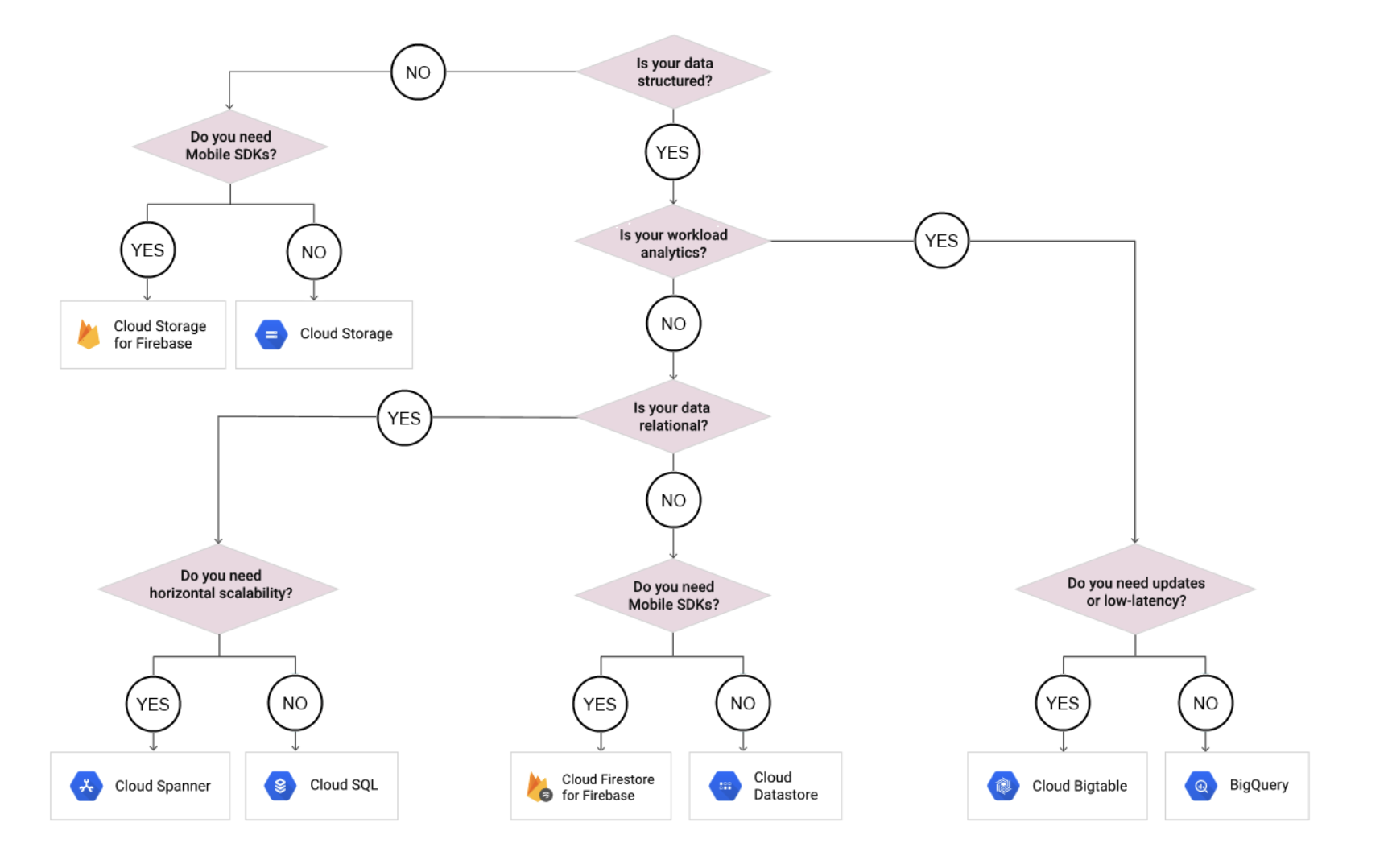 GCP Certification Exam Practice Questions
Questions are collected from Internet and the answers are marked as per my knowledge and understanding (which might differ with yours).

GCP services are updated everyday and both the answers and questions might be outdated soon, so research accordingly.

GCP exam questions are not updated to keep up the pace with GCP updates, so even if the underlying feature has changed the question might not be updated

Open to further feedback, discussion and correction.
Your application is hosted across multiple regions and consists of both relational database data and static images. Your database has over 10 TB of data. You want to use a single storage repository for each data type across all regions. Which two products would you choose for this task? (Choose two)

Cloud Bigtable
Cloud Spanner
Cloud SQL
Cloud Storage

You are building an application that stores relational data from users. Users across the globe will use this application. Your CTO is concerned about the scaling requirements because the size of the user base is unknown. You need to implement a database solution that can scale with your user growth with minimum configuration changes. Which storage solution should you use?

Cloud SQL
Cloud Spanner
Cloud Firestore
Cloud Datastore

Your company processes high volumes of IoT data that are time-stamped. The total data volume can be several petabytes. The data needs to be written and changed at a high speed. You want to use the most performant storage option for your data. Which product should you use?

Cloud Datastore
Cloud Storage
Cloud Bigtable
BigQuery

Your App Engine application needs to store stateful data in a proper storage service. Your data is non-relational database data. You do not expect the database size to grow beyond 10 GB and you need to have the ability to scale down to zero to avoid unnecessary costs. Which storage service should you use?

Cloud Bigtable
Cloud Dataproc
Cloud SQL
Cloud Datastore

A financial organization wishes to develop a global application to store transactions happening from different part of the world. The storage system must provide low latency transaction support and horizontal scaling. Which GCP service is appropriate for this use case?

Bigtable
Datastore
Cloud Storage
Cloud Spanner

You work for a mid-sized enterprise that needs to move its operational system transaction data from an on-premises database to GCP. The database is about 20 TB in size. Which database should you choose?

Cloud SQL
Cloud Bigtable
Cloud Spanner
Cloud Datastore