AWS Global Infrastructure
AWS Global Infrastructure enables Amazon Services to be hosted in multiple locations worldwide.
AWS Global Infrastructure provides the ability to place resources and data in multiple locations to improve performance, provide fault tolerance, high availability, and cost optimization.
AWS Global Infrastructure includes Regions, Availability Zones, Edge Locations, Regional Edge Caches, and Local Zones.

Regions
AWS allows customers to place instances and store data within multiple geographic regions called Region.
Each region

is an independent collection of AWS resources in a defined geography.
is a separate geographic area and is completely independent
is a physical location around the world with cluster data centers
is designed to be completely isolated from the other regions & helps achieve the greatest possible fault tolerance and stability

Inter-region communication is across the public Internet and appropriate measures should be taken to protect the data using encryption.
Data transfer between regions is charged at the Internet data transfer rate for both the sending and the receiving instances.
Resources aren't replicated across regions unless done explicitly.
The selection of a Region can be driven by a lot of factors

Latency – Regions can be selected to be close to the targeted user base to reduce data latency
Cost – AWS provides the same set of services across all regions, usually, however, the cost would differ from region to region depending upon the cost (due to land, electricity, bandwidth, etc) incurred by Amazon and hence can be cheaper in one region compared to the other
Legal Compliance – A lot of the countries enforce compliance and regulatory requirements for data to reside within the region itself
Features – As not all the regions provide all the AWS features and services, the region selection can depend on the Services supported by the region
Availability Zones
Each Region consists of multiple, isolated locations known as Availability Zones and each Availability Zone runs on its own physically distinct, independent infrastructure and is engineered to be highly reliable.
Each Region has multiple, isolated Availability Zones (ranging from 2-6).
Each AZ has independent power, cooling, and physical security and is connected via redundant, ultra-low-latency networks.
Each AZ is physically isolated from the others so that an uncommon disaster such as fire, or earthquake would only affect a single AZ.
AZs are geographically separated from each other, within the same region, and act as an independent failure zone.
AZs are redundantly connected to multiple tier-1 transit providers.
All AZs in an AWS Region are interconnected with high-bandwidth, low-latency networking, over fully redundant, dedicated metro fiber providing high-throughput, low-latency networking between AZs.
All traffic between AZs is encrypted.
Multi-AZ feature, distribution of resources across multiple AZs, can be used to distribute instances across multiple AZ to provide High Availability
AWS ensures that resources are distributed across the AZs for a region by independently mapping AZs to identifiers for each account. for e.g. us-east-1 region with us-east-1a AZ might not be the same location as us-east-1a AZ for another account. There's no way for you to coordinate AZs between accounts.
Edge Locations
Edge locations are locations maintained by AWS through a worldwide network of data centers for the distribution of content.
Edge locations are connected to the AWS Regions through the AWS network backbone – fully redundant, multiple 100GbE parallel fiber that circles the globe and links with tens of thousands of networks for improved origin fetches and dynamic content acceleration.
These locations are located in most of the major cities around the world and are used by CloudFront (CDN) to distribute content to end-user to reduce latency.
AWS Local Zones
AWS Local Zones place compute, storage, database, and other select AWS services closer to end-users.
Local Zones allow running highly demanding applications that require single-digit millisecond latencies to the end-users such as media & entertainment content creation, real-time gaming, reservoir simulations, electronic design automation, and machine learning.
Each AWS Local Zone location is an extension of an AWS Region where latency-sensitive applications can be hosted. using AWS services such as EC2, VPC, EBS, File Storage, and ELB in geographic proximity to end-users.
AWS Local Zones provide a high-bandwidth, secure connection between local workloads and those running in the AWS Region.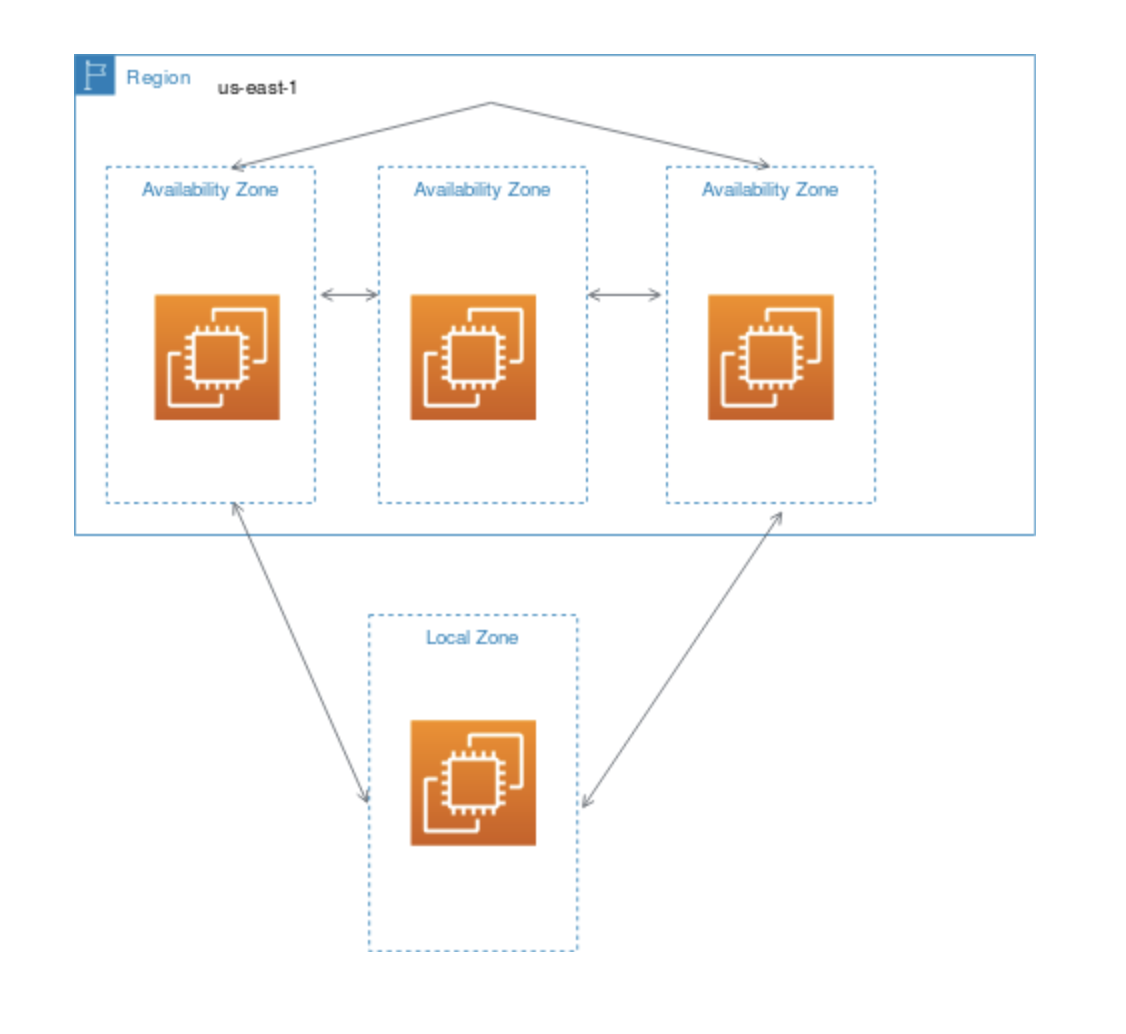 AWS Wavelength
AWS Wavelength embeds AWS compute and storage services within 5G networks, providing mobile edge computing infrastructure for developing, deploying, and scaling ultra-low-latency applications.
AWS Wavelength helps seamlessly access the breadth of AWS services in the region.
AWS Wavelength brings AWS services to the edge of the 5G network, minimizing the latency to connect to an application from a mobile device.
Application traffic can reach application servers running in Wavelength Zones without leaving the mobile provider's network reducing the extra network hops to the Internet that can result in latencies of more than 100 milliseconds, preventing customers from taking full advantage of the bandwidth and latency advancements of 5G.
AWS developers can deploy the applications to Wavelength Zones, which enables developers to build applications that deliver single-digit millisecond latencies to mobile devices and end-users.
AWS Wavelength helps deliver applications that require single-digit millisecond latencies such as game and live video streaming, machine learning inference at the edge, and augmented and virtual reality (AR/VR).

Wavelength Zones are not available in every Region.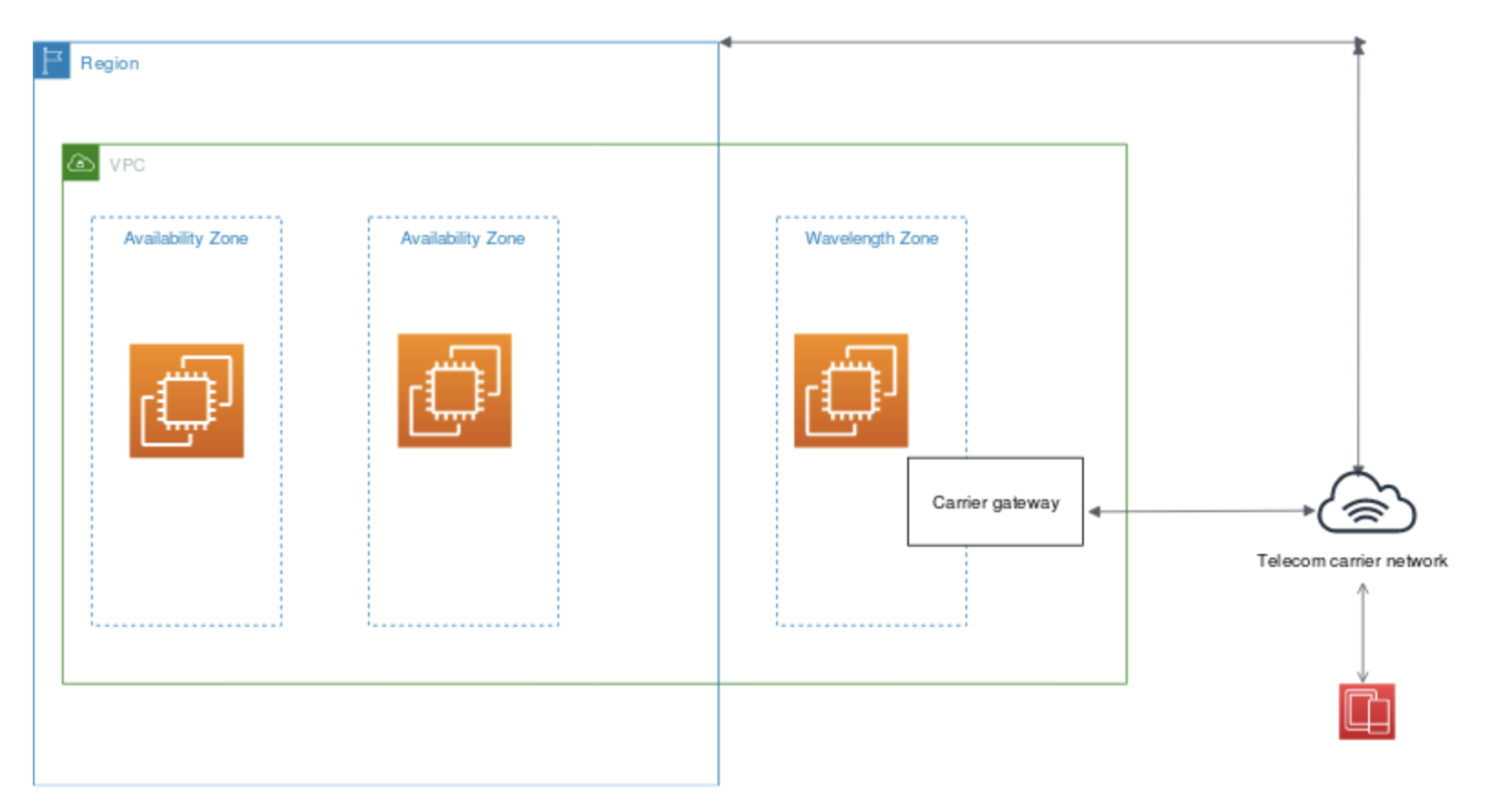 AWS Outposts
AWS Outposts is a fully managed service that extends AWS infrastructure, services, APIs, and tools to customer premises.
Outposts bring native AWS services, infrastructure, and operating models to virtually any data center, co-location space, or on-premises facility.
Outposts provide the same AWS APIs, tools, and infrastructure across on-premises and AWS cloud to deliver a truly consistent hybrid experience
AWS operates, monitors, and manages this capacity as part of an AWS Region.
Outposts are designed for connected environments and can be used to support workloads that need to remain on-premises due to low latency or local data processing needs.
AWS Certification Exam Practice Questions
Questions are collected from Internet and the answers are marked as per my knowledge and understanding (which might differ with yours).

AWS services are updated everyday and both the answers and questions might be outdated soon, so research accordingly.

AWS exam questions are not updated to keep up the pace with AWS updates, so even if the underlying feature has changed the question might not be updated

Open to further feedback, discussion and correction.
George has launched three EC2 instances inside the US-East-1a zone with his AWS account. Ray has launched two EC2 instances in the US-East-1a zone with his AWS account. Which of the below mentioned statements will help George and Ray understand the availability zone (AZ) concept better?

The instances of George and Ray will be running in the same data centre.
All the instances of George and Ray can communicate over a private IP with a minimal cost
All the instances of George and Ray can communicate over a private IP without any cost
us-east-1a region of George and Ray can be different availability zones (Refer link. 

An Availability Zone is represented by a region code followed by a letter identifier; for example, us-east-1a. To ensure that resources are distributed across the Availability Zones for a region, we independently map Availability Zones to identifiers for each account. For example, your Availability Zone us-east-1a might not be the same location as us-east-1a for another account. There's no way for you to coordinate Availability Zones between accounts.

)
Reference